Have you considered hypnosis as your path for self-improvement? Have you heard about hypnosis audios, but you aren't sure whether it works for you?
In most aspects of our life, repetition or daily practice is one of the surest ways of mastering a concept or skill. In the same way, if you want to achieve the best results with hypnosis audios, repetition and practice are key to getting your desired results.
So which is the best time to listen to a self-hypnosis audio for personal development? Is it during the day, lunchtime, upon waking up, or before going to bed? Is it during the mid-morning or mid-afternoon break or after work?
Best Hypnosis Audio Downloads Reviews
Hypnosis is an essential skill that you can use to develop the life of others and also improve your life. You can use it to improve various parts of your life, including boosting your self-esteem, weight loss, money, addictions, phobia, etc.
But which program is best for self-hypnosis?
Here is a review of some of the best and most affordable programs.
---
1. Better Living With Hypnosis
Best Self-Hypnosis Products by Steve G. Jones
Steve G. Jones is one of the most creative minds in our industry. He has developed some of the finest educational programs, books, tapes, and videos on hypnosis.
Steve's creative imagination gives you many fresh insights into using hypnosis for self-improvement or to help your clients. Many of his ideas can be used by other professionals in their fields.
Steve G. Jones' hypnosis products are highly effective for assisting people to change their beliefs, thoughts, emotions, and personal habits faster and easier.
About Steve G. Jones
Steve G. Jones has been a certified master hypnotherapist for over 25 years and is considered a world-class authority on the practice of Clinical Hypnosis.
His work has been recognized by prestigious organizations such as APA, AMA, ACHS, and NGH. Steve's experience also includes extensive training in natural health care strategies and nutritional therapies.
Self-Hypnosis CD Files
Steve's unique approach, combined with humorous stories and engaging language, make his hypnosis MP3 recordings extremely effective.
All of Steve G. Jones' products are digitally recorded on MP3 files, which can be played on any CD player or absorbed directly into your computer's hard drive. They require no special equipment or software. They're easy to use and they're fun.
Why You Should Choose Steve G. Jones Self-Hypnosis Audios
The goal of Dr. Steve self-hypnosis audios is to help everyone understand the power of hypnosis and put it at their fingertips through a variety of hypnotic products.
He has a wide range of CDs, MP3 downloads, and self-hypnosis books designed to help for a variety of purposes including getting sleep, solving your relationship problems, losing weight, gaining confidence, relieving your depression or stress, help with addictions of alcohol, gambling, etc.
Has over 200 hypnosis MP3 titles to Choose From
Steve G. Jones has over 200 hypnosis MP3 titles. His 200+ MP3 titles are designed to help you solve your problems or take your self-improvement to the next level.
All of his recordings are professionally produced, beautifully packaged, and come with suggestions for pre-listening preparation work, post-listening follow-on work, and even scripts for helping you perform self-hypnosis.
---
2. Hypnosis Downloads
Hypnosis Downloads is an excellent choice to consider if you are looking for a program with a massive number of mp3 tracks. The program comes with 1,300 mp3 tracks for you to choose from.
The audio recordings cover various specific needs in multiple categories, including weight loss, muscle gain, social anxiety, personal finance, enjoy life, bad habits, grief, loss, etc.
They also offer courses for dealing with depression and for stopping smoking. If you want to further your knowledge, Hypnosis Downloads has courses and scripts to help you.
You can buy the audio in CD format, or you can download it on your preferred device. Each audio is about 30-minutes long.
---
3. Self Hypnosis
Self Hypnosis is famous for its high-quality downloads, an all-around value offer, and dedicated customer service.
The program uses excellent scripting as well as background sounds.
It covers a wide range of areas, including:
phobias and fears
Habits and disorders
Confidence and self-esteem
Healthy mind
Addiction
Relaxation
Career (goals, motivation, and success)
It also covers particular areas in health, including relationships, sexual dysfunction, weight loss, physical health, and women's health.
---
4. eHypnosis
eHypnosis was created by Greater Minds, and it offers more than 250 self-hypnosis tracks that you can download.
The tracks cover various topics, including love and relationships, personal development, mental skills, health, well-being, etc.
It also offers tracks on phobias, mindsets, success, emotional health, etc.
The standard version f the tracks are 30 minutes long. Besides downloading, eHypnosis also allows you to upgrade the tracks on a CD at an additional cost.
---
5. Hypnosis Live
Hypnosis Live is a product of a self-help and personal development company known as Inspire3. It offers some of the best quality mp3 tracks that you can find online.
Each track in the program is designed and produced by a hypnotherapist and a neuro-linguistic programmer, making it reliable and effective.
Hypnosis Live offers over 200 downloads that cover various topics, including emotions, mindset, fear, anxiety, worry, self-growth, health, etc.
---
Availability and Affordability
Why should you consider a pre-recorded audio and not a one-on-one session with a hypnotherapist?
Affordability and availability are the key advantages of listening to pre-recorded hypnosis audios instead of a hypnotherapist. You can listen to your hypnotic audio at any time, and you get it at a cheaper price compared to a visit to the hypnotherapist.
Additionally, there are thousands of recorded hypnosis audio materials available in the market. As such, you can zero in and get an audio product that addresses a specific problem that you wish to address, such as weight loss, self-confidence, sleep, anxiety, etc.
Keep in mind that sessions with a hypnotherapist can also include recorded audio experiences.
Self-Hypnosis Audio and In-Person Hypnotherapy
How can your hypnotherapist use hypnosis audio recordings?
If you want to achieve the best results while dealing with personal issues such as anxiety, you can use various methods to deal with it and get you to a relaxed state.
For instance, repetition is a vital component of ensuring success with your hypnotic suggestions. If you are seeing your hypnotherapist two or three times a month, it may take longer to set your hypnotic suggestions and change your behavior.
Recorded audios are about 15 to 30 minutes in length, and you can listen to one at any time of the day. Therefore, you can listen to the audios repeatedly, which is crucial in ensuring success.
You can choose the time that is most appropriate for you to listen to the hypnosis recorded audio. The most appropriate time depends on your lifestyle, whether you prefer listening while sleeping, waking up, during a break, etc. You can listen to hypnotic recordings at any time except when operating heavy machinery or driving.
Benefits of Self-Hypnosis Audios
The fact that you can listen to an audio hypnosis recording daily or multiple times in a week is an advantage.
The more you experience self-hypnosis, the easier it is to achieve the same state of consciousness with a hypnotherapist.
Additionally, the audio recordings save you the complexities of scheduling appointments with your hypnotherapist. You don't have to take time off work or add other activities to your schedule. You can listen to an audio program for free, at any time, and at the most convenient place.
The audio recordings are also available in various formats, including mp3. You can download the file and listen to it using your most convenient device.
What's more?
If you want more privacy, you can go for earphones with quality sound. Alternatively, you can choose to listen to the audio using your phone or laptop speakers. Some people prefer the speakers so that they can drift easily to sleep without having to remove the earphones.
The audio recordings also help to enhance your relaxed state. Most come with background music or nature sounds that help to enhance your relaxation. A combination of hypnosis and music offers an excellent blend that results in an effective therapeutic session.
Note, hypnosis recordings are designed to be relaxing. Even if you don't understand the words, there is a therapeutic feeling that comes from listening to the recordings. Just like with a one-on-one hypnotherapist, you have complete control of the process. Your mind will reject any suggestions that you don't like, and you cannot do anything that you don't want to do.
Additionally, there is no risk if someone else is listening to your recorded session.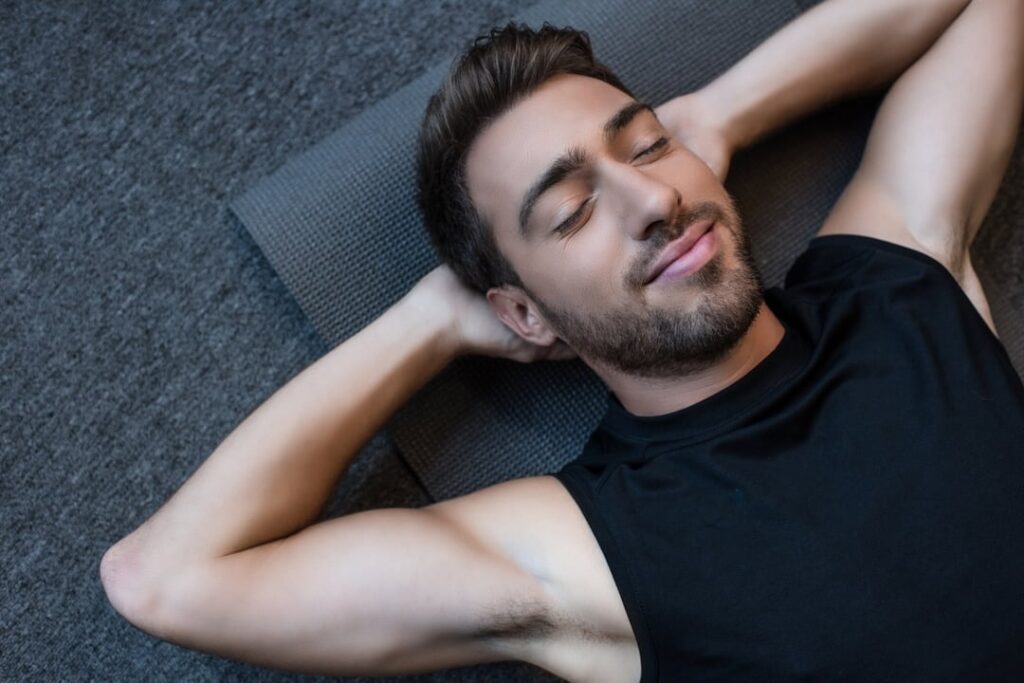 How Can I Hypnotize Myself?
The more you hypnotize, the faster your trance will set.
But how do you hypnotize yourself?
Ensure you lie down and have your eyes on a certain point on the ceiling. The point should be slightly behind you so that your eyes strain a little as you look at it
Take slow and deep breaths
As you inhale, repeat "sleep" either loudly or mentally. Additionally, repeat "deep sleep" as you exhale. Continue with the process until you start feeling drowsy
Suggest that you close your eyes
You can start counting and telling yourself, "At the count of three, I will be more relaxed."
Count to three and repeat the command with each command, "one…getting relaxed, two…more relaxed, three…totally relaxed."
When you are hypnotized, you can use the counting method to program yourself in other areas of your life. You can also consider using longer counts. For instance, "On the count of ten, I will be more loving to my family and friends"
It will take time before you can master how to hypnotize yourself. If you wish to test the depth of your hypnosis, you can use the weightless arm test, making limbs feel heavier, etc.
Another hack to going deeper in hypnosis is using visual imagery. As you count, you can see yourself taking an elevator, going down the stairs, or riding an escalator.
Tasks You Can Improve Using Self Hypnosis
You can use hypnosis sessions before you can start a task to enhance your performance. Such tasks include:
Reducing your anxiety before you can do public speaking
Enhancing your focus before you can carry out an important task such as spreadsheet work or coding
Programming yourself to remain calm if you have an argument
Encouraging yourself to exercise daily
Forgiving yourself and other people
How Do You Get the Best Results From Your Hypnosis Program?
Use hypnosis in times of quiet and peace. If you work on a tight schedule, you shouldn't try to squeeze a session in between.
On the contrary, you should wait until evening when you have a clear mind, and you are relaxed. Additionally, you should avoid listening to hypnosis tracks while operating heavy machinery or driving
Ensure that you are consistent. It can take time before you can start seeing results. How long it takes to see results depends on various factors, including how deep-seated your thought patterns are. It will help a lot if you can listen to the audio tracks daily for 1-3 months.
Final Thoughts
Self-hypnosis is an excellent way of improving your life. There are lots of audio tracks available for you to choose from. Ensure you do the due diligence so you can select the best option depending on your needs. Additionally, ensure you are consistent while listening to the tracks.

Further read to help you choose the right materials:

– Self-Hypnosis for Stress and Anxiety Relief
– Hypnosis for Depression
– Hypnotherapy for Addiction
And there are many more… Good luck!